About the CAS
Cells Alive Freezing Technology Summary analysis of costs associated with CAS utilization
Measurement of freezing temperature curve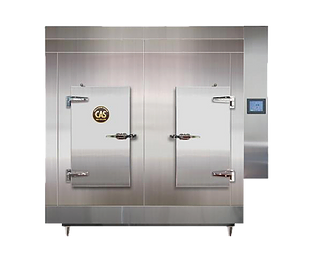 Test specification machine
batch-type 20-tray CAS system
The freezing temperature curves of various types of fish and shellfish (measured by the core temperature of the material using the center temperature system) at -50℃ were measured as follows.
These data are subject to change due to external factors such as equipment configuration, material characteristics, and room temperature. Therefore, we cannot guarantee that the data will be the same in all environments.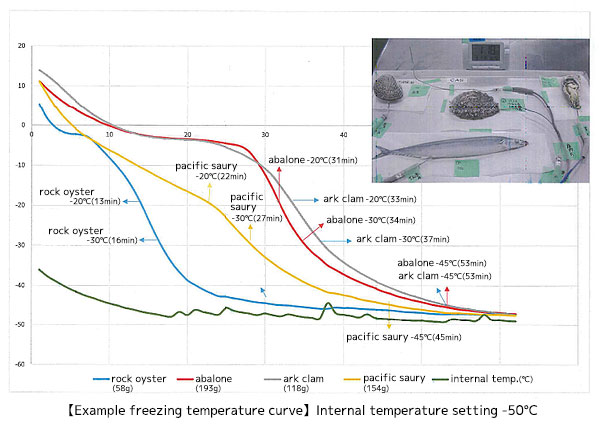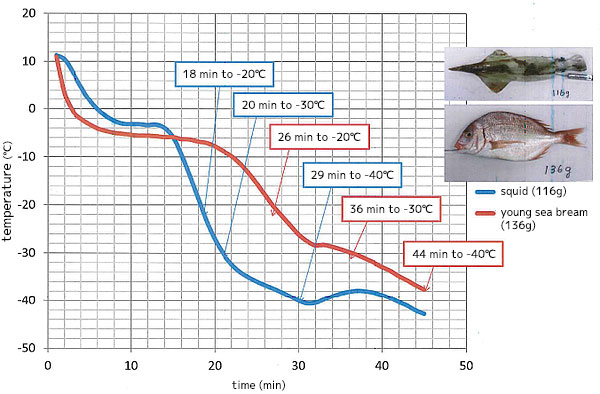 Setting operation cycle (freezing time)
Test machine (batch-type 20-tray CAS system)
The graph shows that various types of fish and shellfish generally enter a state of freezing below -20℃ within about 20 minutes inside a CAS freezing device.
The product must be frozen at an operating cycle of about 60 min with a margin of safety to freeze the product more reliably and stabilize the material.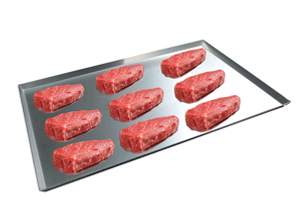 Tray size and freezing shape
The freezing pan used as a standard in our freezing machines is a French baking tray.
Freezing pan (equipment accessory)
Standard French baking tray 600 × 400 × 20 mm
The approximate capacity per shelf depends on the shape of the frozen product, but it is recommended to limit it to approximately 3 kg.
Adoption of adjustable shelf support structure
The batch type CAS freezing machine has an adjustable shelf support structure, which allows free shelving according to the height and size of the frozen object and the application.
Please do not hesitate to contact us if you need more trays.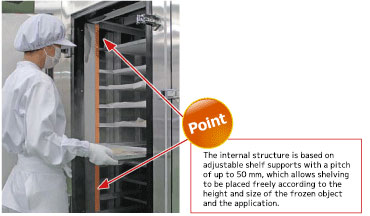 The freezing pan used as a standard in our freezing machines is a French baking tray.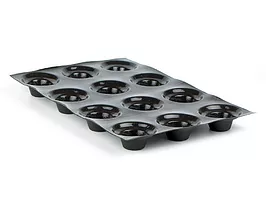 Flexipan series ideal for potion formation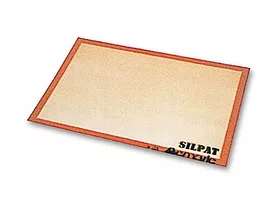 Silpad series to prevent seizure on frozen bread
Accessories are available on the market that improve the workability of CAS freezing and make it possible to easily produce highly convenient shapes.
Many of the silicon glass fiber products such as flexipan and sill pad sold by Nichifutsu shoji Co., Ltd. comply with the French top plate standard, and are high quality and easy to use.
By using each product together when the CAS is frozen, it is an excellent product that prevents the generation of consumable parts, improves quality and reduces costs.
*For details on molded products, please contact the sales company directly.
Source of image : Nichifutsu Shoji Co., Ltd.
Electricity charges for CAS operation
The actual measured values of electricity consumption sampled from a fishery business during actual operations were analyzed and are provided here for reference.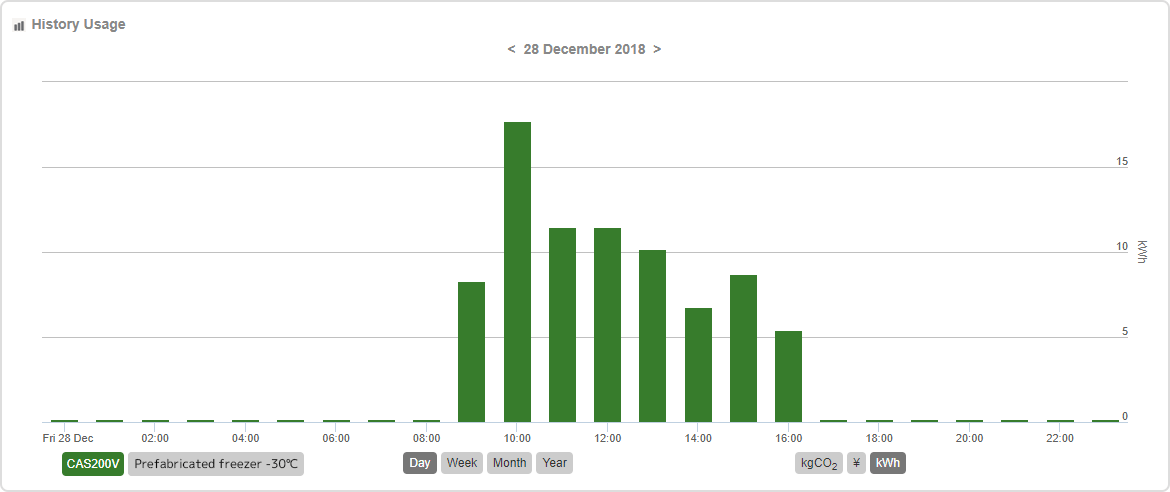 The working hours of this company are from 9:00 a.m. to 5:00 p.m. It manufactures marine products (raw fish), primary processed fish and shellfish (sashimi products, etc.), and side dishes.
The production volume is about 100 kg per day, and about 500 kg during the busy season.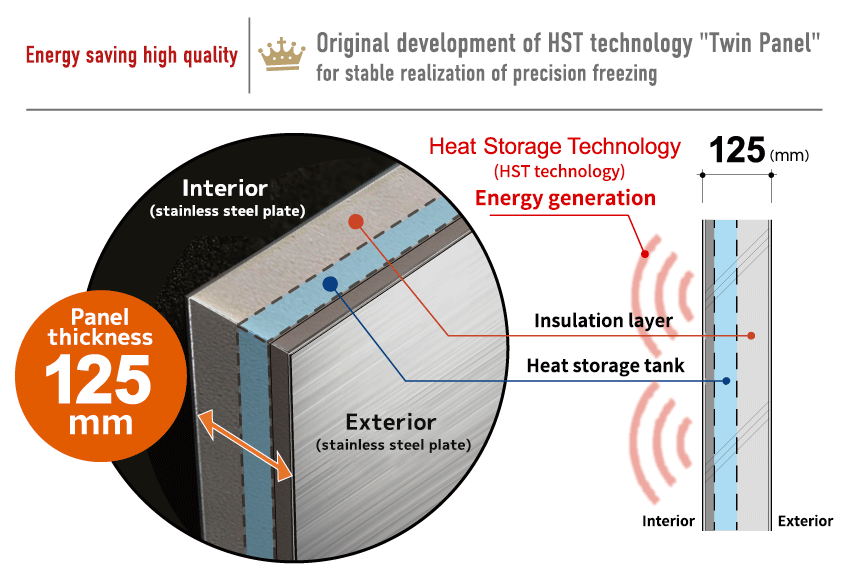 However, the CAS freezing machine gently absorbs temperature fluctuations through the use of original twin panels with built-in thermal retention, which have the highest performance in their class. Moreover, it controls the compressor to minimize its operating time, contributing to energy conservation and improved product quality.
The machine is designed to improve product quality and save energy through the intermittent operation of a large-capacity compressor.
Electricity charges for CAS operation
Machine used for measurement: a batch-type 20-tray CAS freezing machine
① Average power consumption per hour: Approximately 12kwh (at full operation)
②Freezing cycle: 1 hour
③ Number of trays that can be loaded per operation: 20
④ Average weight processed per tray: Approximately 3 kg
⑤ Electricity rates (general values for low-voltage power contracts) @18/kwh *
*Varies by contract (please refer to your electricity consumption rate for calculation)
Approximate power consumption
① 12kwh × ② 1h × ⑤ @18 = 216 yen (1 operation cycle) ⑥
⑥ 216 yen ÷ (③ 20sheets × ④ 3kg) = 3.6 yen ⑦
From ⑦
The electricity cost required to operate the CAS freezing machine is estimated to be 3.6 yen/kg in this environment and at the observation site.
◎ In such operating conditions, an electricity charge of approximately 11 yen per tray (including the quick freezer and CAS-related equipment) has been calculated as the rough estimate.
The above figures are based on actual measurements when 20 trays are used in a batch-type, i.e., 20-tray CAS freezing machine to produce products. However, as this batch-type CAS freezer is designed with a certain margin of space between trays, the number of shelves can be increased according to production patterns.
The maximum number of sheets that can be used depends on the height of the product. However, about 40 sheets is the volumetric limit, which means that the freezing cost can be further reduced by customizing the space.
② The operation cycle should be determined for each material after measuring the core temperature using a central thermometer.
*Please note that the actual values may differ depending on the freezing environment, equipment, freezing cycle settings, and physical properties of the material to be frozen.
Estimated electricity costs of CAS freezing
The usage of a batch-type 20-tray CAS freezing machine is assumed to be 60 kg/hour
*The calculated values may vary significantly depending on the environment, product standards, ingredients, etc. Please use these values for reference purposes only.
*1 The number of pieces frozen in one operation is based on the use of a batch-type 20-tray machine. The approximate number of units produced per tray is calculated by multiplying this approximate value by 1/20.
Item
Standard weight
per unit
Standard number
of frozen units
per operation
Power cost
per unit
Hamburg stake
1 pc (130g)
500 pcs
0.65 yen
Tuna
1 fillet (180g)
350 fillets
0.90 yen
Beef
1 slice (150g)
400 slices
0.75 yen
Pork sparerib
1 pc (400g)
150 pcs
12.5 yen
Teriyaki mackerel
1 fillet (90g)
650 fillets
0.45 yen
Cooked vegetables
1 pkg (180g)
330 pkgs
0.90 yen
Beef & potato stew
1 pkg (120g)
500 pkgs
0.60 yen
Hair crab (whole)
1 crab (500g)
150 crabs
2.50 yen
Scallop in shell
1 pc (150g)
400 pcs
0.75 yen
Dumpling (gyoza)
1 pkg (230g)
260 pkgs
1.15 yen
Steamed meat dumpling
1 pkg (190g)
315 pkgs
0.95 yen
Pork bun
1 pc (150g)
400 pcs
0.75 yen
Maintenance cost of CAS precision freezing
CAS precision freezing is a system that comprises a Cells Alive Freezing Unit (shown below on the left), an enclosure consisting special twin panels, and a Quick Freezing Unit (shown below on the right).
The Cells Alive Freezing Unit is a stand-alone module with its functions integrated into the electronic board. Therefore, after-sales support after the installation of the device in normal use is unlikely to be needed.
The transmitter, which is connected directly to the CPU, is also an extremely reliable component; thus, the risk of requiring special maintenance and support work in the long term is low.
For ensuring long-term, reliable use, only daily cleaning and simple maintenance of the equipment are needed.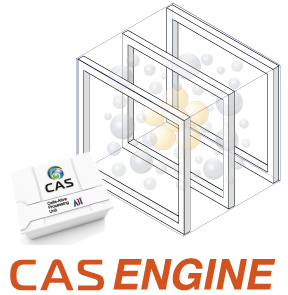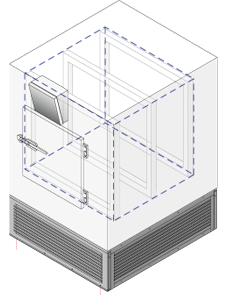 The enclosure and the quick freezing unit shown above (right figure) are manufactured using parts that enable stronger and more stable operation than those used in general commercial quick freezing machines./p>
The compressor is set at a reasonable horsepower level. In addition, its intermittent operation minimizes wear and other deterioration, ensuring peace of mind over the long-term use.
For exposed rotating parts, such as fan motors, replacement of bearings or motors may be needed after a certain period of use, depending on usage conditions. (Approximately eight years from the start of operation)
Simple daily maintenance and inspection of the installation environment to prevent dirt buildup and corrosion on the refrigerant pipes and housing parts will help prevent unnecessary maintenance costs.