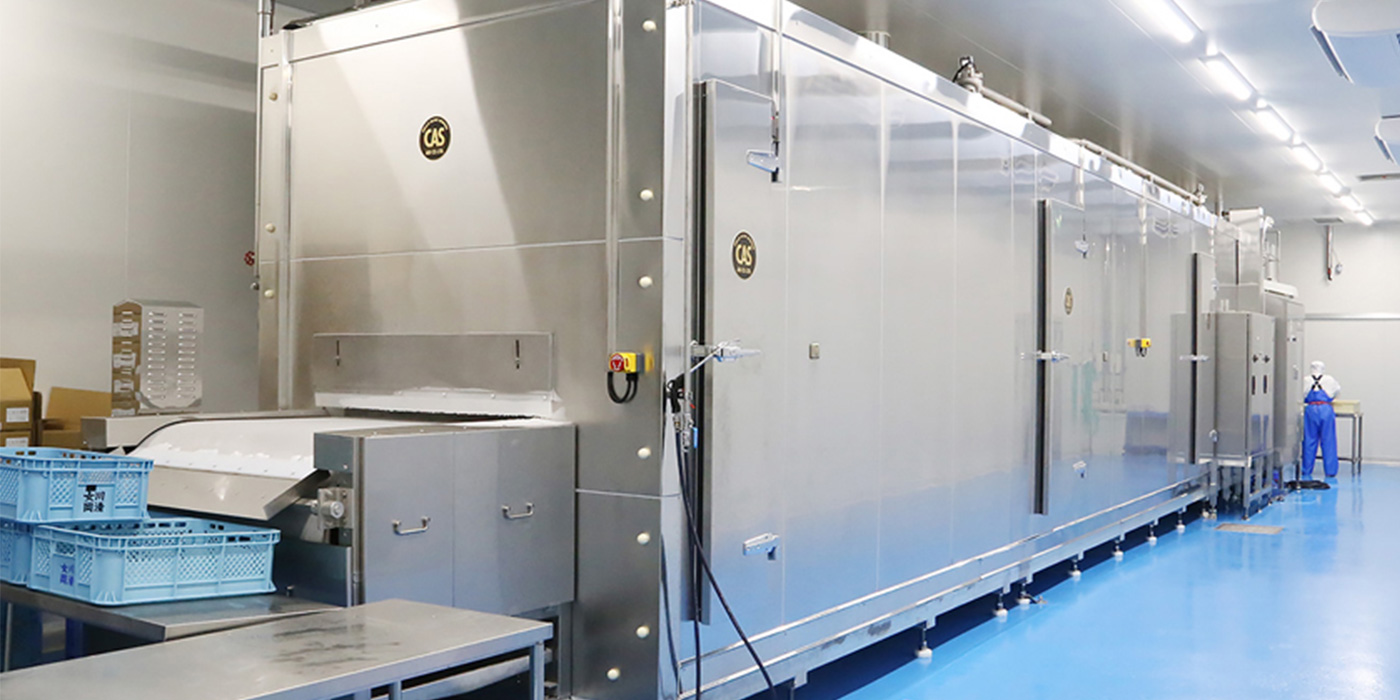 About the CAS CASとは?
Benefits of using CAS
At present, the CAS Engine is helping to overcome limitations of time and distance to revitalize local primary industries that support the Japanese food industry, including the agriculture, fisheries, livestock, and dairy industries, as well as helping to establish new regional brands. The CAS Engine can make a significant contribution to revitalizing industries and regions that have considerable appeal and hidden potential.
[Expansion of trading areas]
Overcoming the limitations of time and place to expand the possibilities of food "you can only eat here"
In primary industries, where freshness is required and there is always a competition for time, trade areas and sales channels tend to be limited. Using the CAS Engine, which prevents degradation of quality over long time periods, new sales channels can be cultivated and established, thereby expanding trading areas nationwide and overseas.
[Establishing local/regional brands]
Taking advantage of freshness to promote distinctive product features and playing a role in product development and contributing to furthering name recognition
By eliminating the limitations of distance and time, developing products that make use of freshness becomes feasible even in urban areas. This enables the development of products that can completely promote the distinctive features of local specialties, thereby enhancing the competitiveness of products while improving recognition of the region as a production center and leading to revitalization of the local area.
[Towards stable industries and organizations]
Moving toward a stable business using the option of "stocking freshness," high quality, and long-term storage
The agriculture, fisheries, livestock, and dairy industries are primary industries that deal with nature. The time of harvesting and the volume of production may become unstable; however, by introducing the CAS engine, "stocking up on freshness" is feasible. Moreover, it could create stable businesses by enabling response to excess production and underproduction. Furthermore, because the manufacturer can adjust shipments, stable employment can be maintained.
[Strategic shipments]
Firmly maintain the value of "freshness" by delivering "always in season" products in a planned manner
The CAS Engine does not damage cell tissues, retains ingredient in a state that is extremely close to that of rawness, and makes it possible to return them to this state after thawing. In primary industries where the value of ingredients hinges on freshness, fresh ingredients can be shipped throughout the year and seasonal ingredients can be supplied at any time, regardless of market prices.
Benefits of each industry